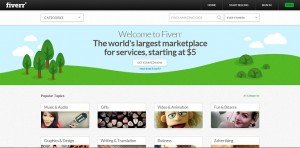 I couldn't create a decent looking header to save my life.
Believe me, I've tried. I've spent hours and hours, trying to create something simple that looks professional…and it still looks like my cat created it.
This is just one of the reasons that I love Fiverr.
For just $5, you can get almost anything done!
This not only saves your sanity, but your time. Even if you know how to do everything in your business, you really don't have the time.
You don't want to be stressed and have to work all of the time. You want to be a relaxed marketer, who does things the smart way.
…and being able to spend just $5 to get something done that will take you a lot of time, or energy, or even get something done that you just don't want to do is an amazing thing.
I used to stress out over my headers, because while I knew I couldn't do them myself, I didn't want to have to spend a lot of money to have someone create one for me…because what if I didn't like it?
Now, I just find someone with great reviews on Fiverr, and spend $5. Worst case and I hate it? Not a big deal…I can always find someone else. But let's face it…especially if you tell someone the type of thing you're looking for, they'll try to do the best they can and you'll end up with something at least similar to what you want.
You'll be surprised at all of the things you can have someone do for $5. Some of them are really creative things you might not have thought of yourself.
But even if it's something basic that saves you a few hours of your time…it's so worth it.
It took me a while to use Fiverr. I figured, for $5, was I really going to get any sort of quality that I'd be proud using? But now I know, the answer is absolutely yes!
So if you're looking to save money, save your sanity, and save time…take a look at Fiverr.