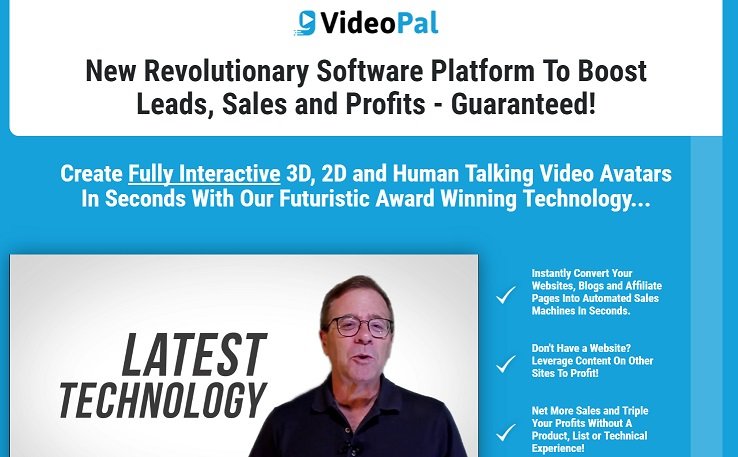 I'm all for being different. Sometimes, it feels like a lot of websites look the same. If you really want to stand out and get people to stay on your website (or more importantly, do what you want them to do, whether it's buy something, give you their email address, or more…) you need to do something different.
So when I heard about this yesterday, I really took notice.
It's called Video Pal, and it's software like you haven't seen before.
It will help keep people on your site by using "tiny videos." When people see them, they will stick around longer.
These small videos can be 2D or 3D, and are walking and talking. They can be animated characters, real people, or even yourself!
Imagine seeing a small video of yourself walking across the bottom of your screen. That would get your attention, wouldn't it?
Here's what really cool about them:
It works on all devices (even mobile)
Use Video Pal on your own website or any other website
Use 2D, 3D, or real-human videos, or even your OWN videos to create these "walk on" video magnets
Create Video Pals in seconds with the BEST Text to Speech in 24 different languages
Works great on all websites, even WordPress
VideoPal IS the new standard in increasing website conversions no matter what your site, no matter what your niche. Get VideoPal today and virtually guarantee your website will perform better when you use your new "pals"!
Get VideoPal now, before the price goes up, which it will be doing very soon. Plus you can also use the code DISCOUNT to get $5 off.
Enjoy,


P.S. I almost forgot to mention, it also has a cool text-to-speech engine featuring 24 different languages. So you can have your video avatars speak in any language and convey your message!
Check out Video Pal and see how it can change your site!