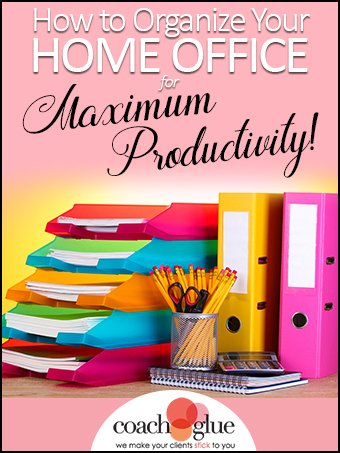 Yesterday I posted about how now that we're getting close to the end of the year, it's time to start planning for a successful 2017.
One way you can do that is to make sure that your home office is organized, so that you can be at maximum productivity.
The more organized you are, the quicker things will go and the more you'll be able to get done.
Today, CoachGlue has a coupon on done for you content that you can use to create your own training so that you can help others become more organized.
The coupon is for $10 off on "How to Organize Your Home Office for Maximum Productivity". It's normally only available to their all access VIP members, and is not sold anywhere on their site.
The workbook covers:
Why You Should Organize Your Home Office
Step One: Make Your Plan
Five Essential Steps to Getting Started
Exercise: My Office Organization Plan
Step Two: Must Have Office Essentials
Appointments & Scheduling
Organizing Physical & Digital Files
Company Manual
Desk Space Do's and Don'ts
Exercise: My Office Essentials Plan
Step Three: Creating Maximum Inspiration
Exercise: My Inspiring Office Space
Step Four: Cut Down on Distractions & Inefficiency
Create Checklists
Banning Distractions
Exercise: My Efficient, Distraction-Free Plan
To get the $10 discount, use code DEC9 before midnight tonight.
Not sure what you can do with it?
You can create a report that you give to your new clients, use it to participate in a giveway, or as an opt-in so you can grow your list. You can take it and add a few videos or interviews and sell it on your website to create a passive income.
There are a lot of other things you can do with it as well to increase your income.
Just be sure to grab the workbook today if you can use it, as the coupon expires at midnight tonight. Again, the code is DEC9.
Enjoy,