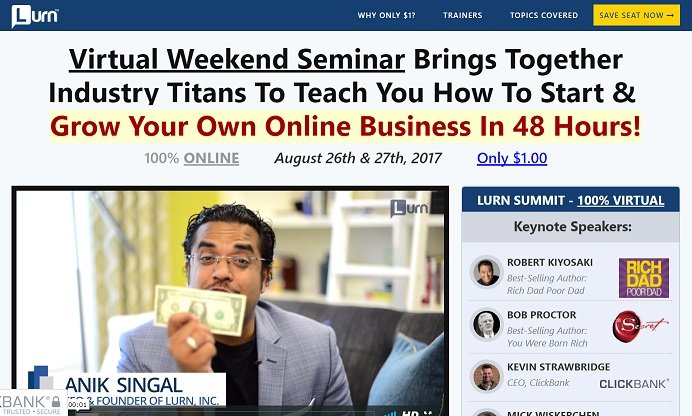 Anik Singal is hosting an event, called "The Lurn Virtual Summit", on August 26th and 27th, and you need to be there.
Here's the great news: It's a virtual summit, so you can attend from home, and even better, it's only going to cost you $1!
There will probably be some people you know as well as the keynote speakers. They have Robert Kiyosaki, Bob Proctor, and ClickBank's C.O.O.! These are definitely people you'll want to learn from.
Now, you don't need to learn much to get your money's worth if you only spend one dollar, but you're going to get a whole lot more. The whole point of the summit is to help you start or grow your digital business.
Here are some of the sessions:
Day 1: Setting up your profitable online business:
Affiliate Marketing 101
Digital Products 101
Power Niche Selection
First Sale – 48 Hours
5-Step List Building
20 Minute Challenge
Day 2: Getting traffic, killer conversions, and scaling your business:
Facebook Mastery
Solo Ads and Email Media
Killer Copy and Conversions
Writing Broadcast Emails
Creating Autoresponders
Business Tools and Resources
Passive Income Scaling
Entrepreneur Live Q&A
By the time the second day is over, you'll be prepared for your entire business!
I have absolutely no idea why he would agree to do all of this for $1…but I would definitely take him up on it! You'll be able to watch from home, during the weekend, so it won't interfere with work if you have a day job.
Don't miss out. Learn how to start your online business (or grow it if you already have one) for just one dollar!
Join The Learn Virtual Summit for Just $1!
Enjoy,