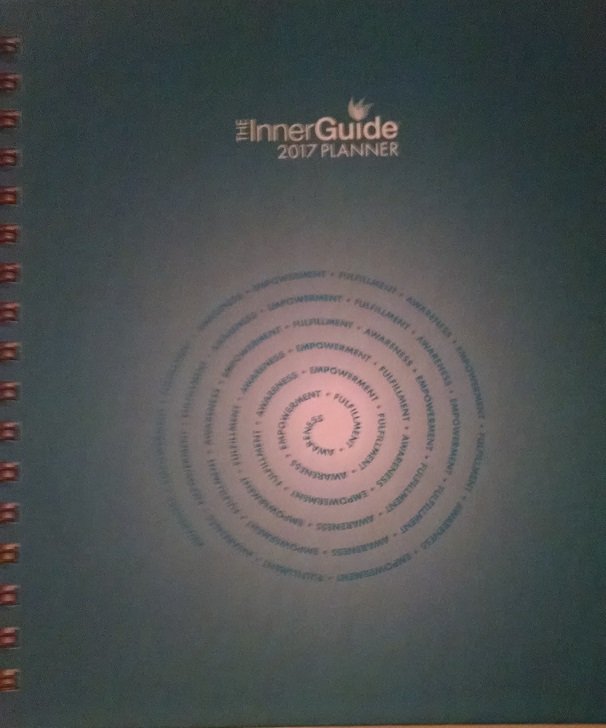 This afternoon, my InnerGuide Planner for 2017 arrived at my door. I ordered it on Amazon a few days ago, and have been anxiously awaiting it's arrival.
Why?
I've learned that the more I plan, the more I get accomplished, and the more money I make.
This is the 3rd year I've purchased the book.
I'm almost embarrassed to say that the first year I bought it, I only used it every once in a while.
Don't get me wrong, I loved the layout and everything you could put in the planner…but it just seemed like so much work.
Plus, I didn't really know what I wanted to do ahead of time. Usually when I would sit down to work, I would figure out what I wanted to work on. I didn't do it ahead of time, so a planner didn't help me.
But every so often I kept trying, and before you know it I got used to putting things down in the planner.
During the day I'd write down what I wanted to do the next day or the day after – although I usually ended up doing it at the end of the day.
When I saw a new launch was being announced that I wanted to promote, I'd put it in the planner so that I didn't forget about it and made sure I wrote the posts in time.
Every time I used the planner, I got more accomplished than when I didn't.
So you probably know that using a planner can help you do more…but there are a ton of planners out there.
What are some of the reasons I like this planner over all of the others out there?
At the beginning of each month, there is a monthly view. I love this because every time I write a post, I'll go to the calendar and write the date of the post. This makes it really easy for me to see what dates have posts for my different blogs. It also gives you space to layout your intentions and goals for the month. If you don't have them, how can you accomplish them?
At the end of the month, there are pages to go over the month to see if you achieved what you wanted to.
There is a lot of space for each day, plus for each week you write you intentions, your highest priorities, and your to-do's. This is great because in one planner I can keep track of all work stuff, plus other things I need to get done.
It really does help with motivation, getting more done, happiness, etc… like it says in the title.
It also helps you keep track of how you're feeling, helps you be grateful, and more.
It has a 4.7 out of 5 rating on Amazon, and I truly think it deserves it.
My favorite thing is that there is so much space in it.
You can make sure you get everything done with your business, as well as your personal life. It makes it easy to prioritize it all together, and also lets you go over each month beforehand and afterwards, to make sure you're accomplishing what you plan to each month.
It makes it easy to see if you're not, and then you can act accordingly to make sure the next month you are able to do what you plan to do.
There are many planners out there, and you should definitely use one if you want to get more done.
They also have a choice of covers.  I got the nice teal one (the picture I took doesn't do it justice), but they have a few other choices as well.
I have really enjoyed using this planner, and can't wait to start using the new one so that I can make 2017 the best year for my business, and my life in general!
Check out the InnerGuide Planner for 2017 Now!
Enjoy,