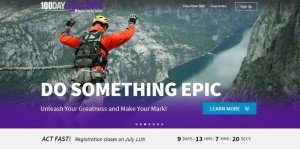 I've been doing the 100 Day Challenge for the past 8 so or weeks.
I haven't been the best about keeping up to date with posting about it, but I'm definitely accomplishing a lot.
Do you know what September 22nd is? It's the start of the last 100 days of the year.
If you want to finish the year strong…you'll have exactly 100 days left to do so.
Gary Ryan Blair has posted a free manifesto and video series that will give you a blueprint on what it takes to finish the year strong.
If you still have a lot you want to accomplish before the year is over…I strongly suggest you take a look at the free stuff he's giving away!