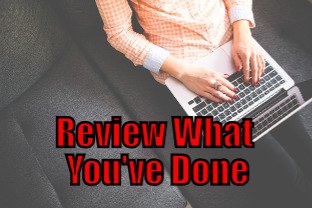 Whenever you're about to get back to work – whether it's overnight, after the weekend, after a holiday, or after a vacation, the first thing you should do is review what you've been working on.
It might seem counter intuitive to spend your time going through things you've already finished, but by looking over it, you'll see exactly where you are in a project, and also get back into the mindset of it.
Once you've done this, you'll be ready to move on and will know exactly where you are.
Then it will take less time to move forward, and you'll get more accomplished.
If you'd like to see other tips that are a part of the series, check out 30 Days to a More Productive Business.
Enjoy,