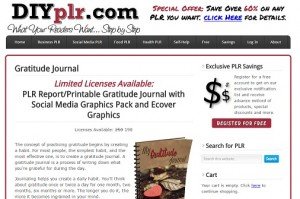 I spend a lot of time reading books and articles on happiness. I just find it really interesting to see what makes people happy, and how to become happier.
It turns out that one of the biggest things that leads to happiness is having gratitude.
When you are grateful for the things you have, you become even happier.
If you write those things down, it can really help you (and others) lead a happier life.
"Gratitude is the healthiest of all human emotions. The more you express gratitude for what you have, the more likely you will have even more to express gratitude for." – Zig Ziglar
So I'm really excited to tell you about DIYplr's latest release. It's a gratitude journal with PLR rights. It even comes with a social media graphics pack and ecover graphics.
You can use this yourself, to make sure you show more gratitude in your life (and become happier in the process), and you can sell it (as well as make any changes you want to have it fit into your niche) and help others become happier.
While we all want different things out of life, we all want to be happy. So why not help others become happier?
Through Tuesday, you can use code GRATEFUL to get 50% off the bundle. I think you'll be really happy when you see how low the price is.
Get Your Gratitude Journal with PLR and Help Others become Happier!
Enjoy,