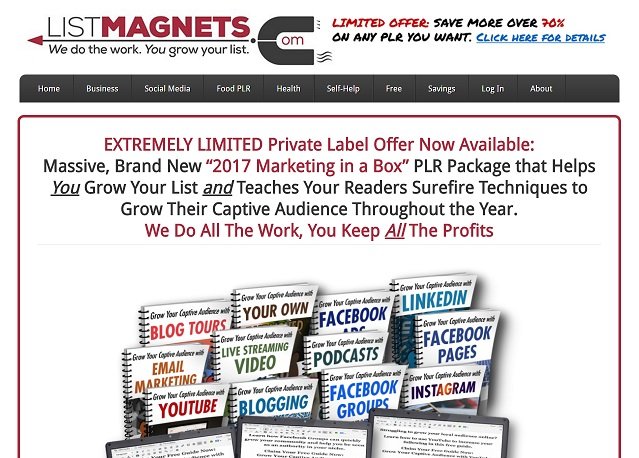 I can't believe this is the last work day of the year. I have been planning what I want to accomplish in 2017, and hope you do the same thing. Even though I'm sure we'll make changes along the way, it's great to have an idea of what you want to do, and when you want to get it done by.
If one of the things on your list has been to start or grow your list, but you haven't gotten around to it yet because you don't have the time to create your own free report and opt-in page, or if you have no idea how to do it, you have to check this out today.
Through tonight, Alice Seba has a crazy deal. For just $27, you'll get 12 different Internet Marketing lead magnets. That means 12 different illustrated reports on different topics that will get people to sign up to your list.
For each topic, you'll also get the opt-in page and professional covers. All you'll have to do is attach it to your autoresponder, and send traffic to them!
Here are the 12 topics:
Grow Your Captive Audience with:
Facebook
Instagram
Blogging
Marketing
LinkedIn
Blog Tours
Facebook Pages
Podcasts
Your Own Published Book
Facebook Ads
Live Streaming Video
YouTube
It's called the 2017 Marketing in a Box package, and since you have PLR rights to it…you can do a lot of different things with it, and make any changes you want.
Just off the top of my head, here are a few things you could do with this package:
Have 12 different ways to get people to opt-in to your list.
Sell a 1-year marketing course where every month they get a new topic on growing their audience a different way.
Have 12 individual, inexpensive products that people can buy.
Use one of the reports as a free opt-in and then put the other 11 together as a bigger product where they can learn other ways to grow their audience.
If you've wanted to start or grow your list though, this is a really easy way to do it. Anyone who is trying to earn online needs to know how to grow their audience, and you can make it easy for them to learn it.
I can't believe it's only $27, but through tonight only…
Get the 2017 Marketing in a Box Package!
Enjoy,