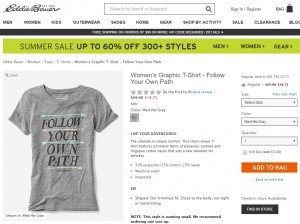 If you're an entrepreneur, business owner, Internet marketer, and so on…you already know that you follow your own path.
Many people might even look at you a bit strangely, especially if you're an Internet marketer as they probably don't understand what you do to make money.
No matter what type of business you have, they probably think it's too risky, and might even think you're a bit nuts for doing it!
But we know better. You have to follow your own path in life, and do what's right for you.
That's why I am totally loving this t-shirt that I saw at Eddie Bauer. I normally don't like t-shirts with sayings on them, but this one just struck a cord with me.
I totally feel that as an Internet marketer that I follow my own path. Even though friends and family might think I'm crazy some of the time for it…even if they don't understand exactly what it is I do, it's all good.
I follow my own path, and I'm happy to be able to do so!
Enjoy,