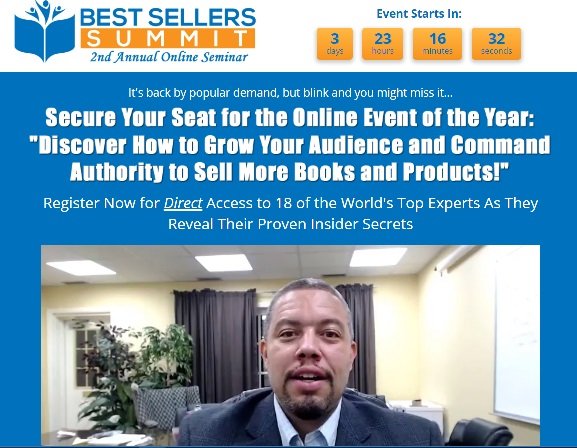 Throughout the week we've been talking about how to make sure you get your goals accomplished this year, such as writing your book or creating your info product.
Now I want to share with you a way to surround yourself with people who have achieved what you want to achieve.
They have grown their audiences, sold more stuff, created products, wrote books, and more.
So these are the people you want to learn from.
Ron Douglas and Alice Seba have just released tickets to their Best Seller Summit that starts next week, and you can get an amazing price on it through Sunday night.
You'll get access to words of wisdom from top-notch experts such as:
John Rhodes, Connie Ragen Green,
David Hancock, Greg Cesar,
Jay Boyer, Kristen Joy, Matt Bacak,
Ben Adkins, Ty Cohen,
Nicole Dean, Temper Thompson,
Brad Gosse, Jim Edwards,
Daniel Hall, Bryan Cohen,
…and of course, summit co-founders and online publishing geniuses, Ron Douglas and Alice Seba. Many of their attendees declared the 2016 summit a "life changing event" and "Best seminar" they've ever attended, so go and see what the fuss is about!
This weekend, you can pick up a specially-priced All Access Pass that gives you access to all the recordings, transcripts, notes, and PowerPoint slides. Get that before it's too late!
Get Your Ticket to the Best Sellers Summit Now!
Enjoy,