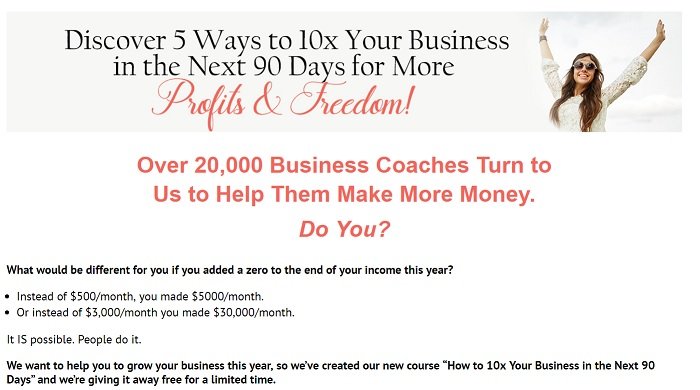 If one of your goals for the year is to add a zero to the end of your income, I think you're going to like this training. It won't cost you a penny, and is given by Nicole Dean and Melissa Ingold of CoachGlue. They really know what they're talking about when it comes to working smarter (not harder) in your business.
The training is brand new, and is called "Discover 5 Ways to 10x Your Business in the Next 90 Days for More Profits & Freedom!"
Who wouldn't want to make more in the next 90 days? And the fact that it won't cost you a thing is also pretty great.
In this training, they'll teach you:
How to finally reach your goals
How to create reliable streams of income
How to create high ticket items
How to grow your list of fans and customers
How to get and keep new clients
…even how to get paid to travel!
I'll be the first to say that it almost sounds too good to be true, but what do you have to lose?
Of course I've signed up for the training as well, and so far have been loving the suggestions and ideas they come up with!
Think of how different your business can be just 90 days from now:
Enjoy,


P.S. Over the past few weeks I've been mentioning how you can get any of CoachGlue's planners for just $20 each with code 2017 for the rest of January…well they just added another new planner yesterday.
It's their "Business Personality Assessment: Outsource and Network with Ease." So now you have yet another planner to choose from!
Get Your $20 Planners Here – Don't Forget to Use Code 2017 for the Discount!