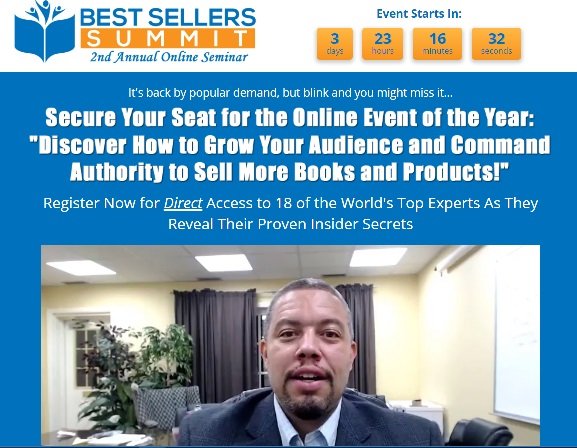 Throughout the week, I've been talking about Ron Douglas and Alice Seba.
They've just released tickets to their Best Sellers Summit 2017, going on next week. You can get your virtual ticket and learn some incredible stuff.
If you wanted to get your product done, write your book, grow your list, or make more sales, you need to check this out.
Today, I wanted to share a bit more about what you can expect to learn, as well as what people thought about last year's summit.
Here are just some of the things that are going to be taught during the 4-day summit:
How to build instant and lasting authority in your niche.
How to overcome your indecisive slump and take profitable action.
Growing your continuity income with membership sites.
Working with a publisher to boost your credibility and sell more books.
Building a 3k a month business in a virtually ignored Amazon category.
Writing and publishing a best-selling children's book in 7 days or less.
A case study on becoming the #1 book on Amazon in 9 hours flat.
Creating a self-publishing empire on Amazon, without doing any writing.
Creating your own books and ebooks in 3 hours flat…or less!
Using public domain content to create profitable Kindle books.
How to get more book reviews, without cheating the system or raising red flags.
…and more!
This weekend, you can pick up a specially-priced All Access Pass that gives you access to all the recordings, transcripts, notes, and PowerPoint slides. Get it before it's too late!
Get Your Ticket to the Best Sellers Summit Now!
Enjoy,