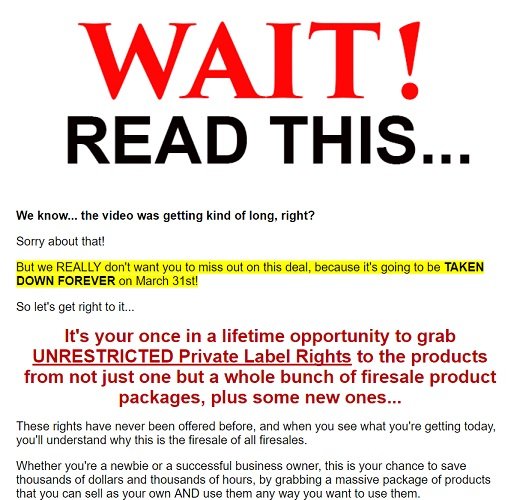 The title of this post may seem a little strange…but that's what Eric and Jeff are really offering. A firesale of firesales.
You'll get:
22 ebooks
20 pieces of software
4 PHP scripts
2 WordPress plugins
4 video courses
…and you can do anything with them that you want!
Sell them individually (or as smaller bundles) and keep 100% of what you earn, edit the products and turn them into something new, add the products to a membership site, use them as bonuses for affiliate offers, give them away to build your list, or anything else!
I'm not big on watching video sales letters, and always prefer to see the text. So if you're like me, you can just try to close the window (or go to another site) and it will as if you really want to leave or stay. If you say you want to stay, you'll get the text version, which spells out everything you get.
Right now it's under $20 for all of the above. The price rises with each sale though, so if you're interested, you should check it out now before the price gets any higher!
See Exactly What You'll Get Here
Enjoy,